This is our last night in Manila.
I haven't been updating, I know. Here goes.
On Monday morning, Bosslady and I met up with Marie in the hotel lobby, then took a cab to Greenhills Shopping Center. It's the place that everyone back home swears you have to go when you come to Manila. Ultimately, it's like a big swap meet. Locals, if you can imagine a cross between the B&I and the Crap Pavilion at the Puyallup Fair (with no air conditioning), that's my best description.
I ended up buying two handbags (and no one needs to tell me that they're fake because I'm pretty fucking certain they are), two pairs of pearl earrings, a pearl bracelet (the pearls I know
are
real) and a nice wood/silver rosary for Ron (who's gotten into religion again, so I'm trying to be supportive). Oh, and some glass bead bracelets. I don't know how much I spent in total, except that the two handbags came out to 1450 pesos total and the earrings were 150 pesos each.
After that, Bosslady and I went back to the hotel and tried to get some more sleep before work that night.
Ultimately, that's been the gist of our days this week. Fitting in shopping after work, then trying like hell to get enough sleep before the night shift. Both of us have been counting down the days until our departure - we're both pretty damn homesick. We made another trip to Balikbayan Handicrafts, then more than a few trips to Landmark. I got the pearl sets I'd been eying there, plus finished up the souvenir shopping I had left to do. Also got the girls some more clothes and also about three new pairs of bigass, cheap sunglasses to feed my addiction. This morning, after work, we headed to Landmark for one last shopping trip - SNACKS. I spent over 1000 pesos and, including my last snack run, I've spent about $30 on goodies that I'm bringing back.
After that, we came back to the hotel and I got back to packing. I'd started before we went to Landmark (nothing here opens until at least 10am, so I had a few hours alone in my room after breakfast) and now just needed to add the snacks I'd bought. I picked up a plastic serving container with a lid, about the size of a small crisper drawer, to put the majority of the crushable snacks into. In the end, I ended up having to decide to carry one plastic grocery bag with me as a carry-on - the one with all the chips. Everything else, I managed to get into my suitcase. I have pictures, I'll post.
By the time I went to bed, I had a rager of a headache. I didn't take anything for it and ended up majorly regretting it later. Ron called around 1:30pm local time (10:30pm on 6/11 Seattle time) and we talked for awhile. Even after that, I still couldn't sleep. The headache got worse and nearly made me physically sick until I showered and then fell asleep in a towel. All told, I probably got about four hours sleep.
Bosslady and I met up at 8pm tonight to go find something for dinner over at Greenbelt. Turned out, she'd slept like crap too, getting about the same amount of sleep that I did. She'd entertained the thought of calling me, as I'd thought of calling her, to suggest skipping dinner in lieu of getting more sleep. We wound up at a California Pizza Kitchen that we didn't know existed, her eating pepperoni pizza (seriously, wtf?) and me with the Thai chicken pizza.
I'll tell you one thing. When I get back on American soil, the first place I want to go is to motherfucking Taco Bell. Then I want a REAL Diet Coke. Like, a Super Big Gulp from 7-Eleven. With ICE. I do not want to fear the ice anymore!
Tonight, we're not "working." We're meeting up with the kids from class and they are going to take us out on the town. I think we're going to end up at videoke, honestly. Either way, I'm thrilled that we don't have to go into the office. I don't have to lug my laptop down there, I don't have to pretend not to nod off in front of my computer screen. The kids are doing SO well, it's like we're not entirely necessary anymore. I enjoy being there and having gotten to know them, but they're flying on their own now. I'm glad we get to go out and have a bit of a celebration. Not only have we been here for two weeks, but they've been various forms of training for about a MONTH now.
Besides, I need to have a few more San Miguels before I go. I have to admit, I really like that beer.
All right, that's enough from me. I have a comfy bed calling my name (I can accomodate its request for about thirty minutes) and a book that I'm nearly done with (third and final book that I brought with me).
I'll try to post again tonight, after we return from our night out.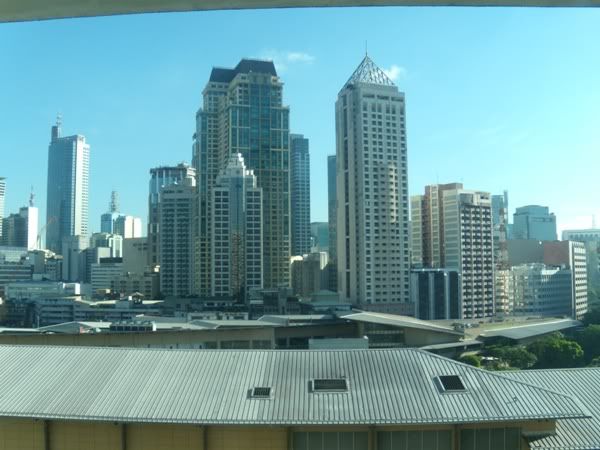 Proof that it has been sunny since we've been here.
( ...and now, pictures... )